Eastern Foundry Limited CLARENVILLE, NL, Canada

Eastern Foundry Limited was incorporated in 1991, specializing in sacrificial cathodic products, manufacturing zinc and aluminum anodes. Located in Clarenville, Newfoundland, the company's facility is situated within a floor area of 9000 sq feet. Eastern Foundry Ltd. can supply a wide range of high quality zinc and aluminum anodes in standard shapes, sizes, and mass's. Please refer to our catalog. EFL can also design and manufacture an anode to meet your specific requirements within our on-site welding and machine shop, call today with your custom requirements.

unselect all/select all
You have 0 products selected
zinc and aluminum anodes
Send enquiry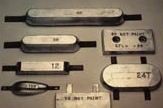 EFL's products are both gravity-cast and die-cast using pure zinc and aluminum alloy with specific additives that ensure products remain electro active throughout its industrial service life.